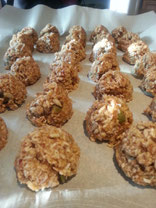 I am reposting this recipe from a couple of January's ago. These make a nice addition to a Christmas goodies tray, balancing out the traditional chocolate based options (not that there is anything wrong with high vibe chocolate) with a different flavour, and providing a super hit of nutrition.
Try these easy healthy, mostly raw, treats that not only taste good but have nutrients that will support your immune system.
Vitamin C from the lemons, zinc from the pumpkin seeds, Vitamin E from the sunflower seeds, and Omega 3's from the hemp hearts combine with fiber, iron, and magnesium rich dates to have your immune system and taste buds singing!
INGREDIENTS (choose organic as much as possible)
2 cups pitted Medjool dates

½ cup hulled hemp hearts

Juice of 2 lemons

Zest of 1 lemon

1 TBSP vanilla extract

2 cups shredded coconut

1 cup hulled raw sunflower seeds

½ cup raw pumpkin seeds

Pinch or two sea salt
DIRECTIONS
(Scrape sides of bowl as needed after each step)
Combine dates, lemon juice and lemon zest in a food processor and process well.

Add salt and vanilla – pulse until mixed.

Add hemp hearts – pulse until mixed.

Add coconut – pulse and scrape bowl until mixed

Add sunflower seeds and pumpkin seeds and pulse until mixed (you don't want them completed broken down).

Scrap sides of bowl and pulse again if needed to fully mix.

Use an ice cream scoop (1.5 TBSP or smaller) to scoop mixture into balls and place on a sheet lined with parchment paper.

Place in refrigerator to chill.

Store in an airtight container in refrigerator for up to 1 week, or freeze.
Tips:
I used my juicer for the lemons and zest which would yield more juice than if juiced by hand. Adjust your ingredients accordingly to get the consistency you like.

You can roll them into balls if you want a more perfect circle, or flatten the middle into a nest shape for kids, Easter, Spring themes, etc.
Every time you eat is an opportunity to nourish yourself! Enjoy these edible rays of sunshine ~