Did you know the amount of sugar the average North American eats has about doubled in the past 100 years? And in 1700 sugar consumption was about 2 kilograms per year versus 2009, when it was estimated at about 82 kilograms per year!

While it's ideal to limit the amount of sugar we eat, if we are going to indulge in moderation it's far better to make your own treats.

Store bought "treat" foods typically contain chemicals, poor quality oils, refined white sugar, or genetically modified beet sugar. The negative health impact of these inflammatory ingredients go far beyond simple calorie counting.

We are what we eat, and we take on the energetic vibration of what we eat. Try this brownie recipe below for a higher vibe treat option. Consistently crowding out the dead food with food that has nutrients your body needs becomes effortless (and far more satisfying) when you do so with decadent versions of your old favourites. Especially when you feel better as a result! 

It was a few years ago when someone passed along a paleo brownie recipe to me. It was and still is a great recipe, but there came a point when I wanted to cut back on the amount of eggs I was eating. The recipe adapted pretty well to simply omitting the eggs, but that left a recipe which was a lot of peanut butter per brownie. Nutritional needs can vary from day to day and season to season. I recently started to experiment with it, and I think I've found a good modification for when I am not wanting so many nuts (or eggs).
Ingredients:

Always choose the organic version of each ingredient whenever you can. It tastes better, has more nutrients, is better for the planet, and supports the organic farmers and organic industry. Prices will come down as demand goes up and we speak with our wallets. The money you spend on your food today, is money saved in your health care down the road.
1 cup cooked sweet potato (I baked mine, but you could also steam)
1 natural peanut butter (crunchy or smooth - your choice! You could substitute Sunbutter for a nut free version)
1 tsp vanilla extract
1 1/8 cup maple syrup (really - go organic here. if nowhere else in this recipe, go organic here! You don't want the chemical defoamers, and the taste is unbeatable)
a pinch or two of sea salt
2/3 cup cocoa powder (I used organic fair trade Camino brand. It's a generous 2/3 - I might try 3/4 next time and see the difference. But for now, let's call it 2/3rds)
1 cup dairy free chocolate chips (I used Camino brand again. You could leave them out to "clean up" the treat a bit more)
Directions:
Preheat oven to 350 degrees

In a food processor:
Pulse the sweet potato a few times to help break it up
Pulse in the peanut butter
Process as you pour in the vanilla and maple syrup. Mixture should be smooth
Add the salt and cocoa - pulse first, then turn on fully
Stir in the chocolate chips

The batter should be thick. Scoop into a parchment lined 8 X 8 baking dish. You could also grease with coconut oil instead of the parchment paper.

Bake for 32-35 minutes

Cool completely - these are better if they sit a bit as the texture will turn more "fudgy". I will admit I did try them straight from the oven, too. Still amazing, but try and wait a bit if you can :)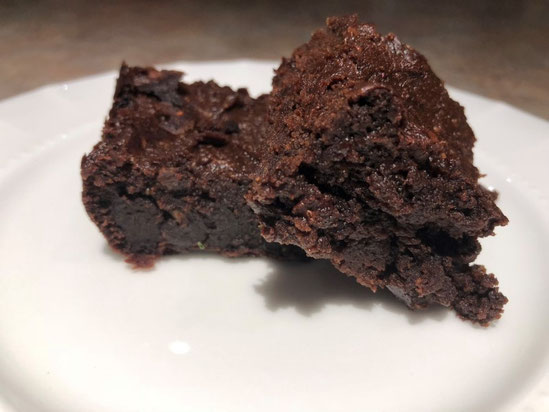 Tips

I bake a few sweet potatoes at a time. I put them on a baking sheet "as is"  and once they cool, remove the skins and freeze them in one cup portions so that they are on hand for baking when the mood strikes. (This is often to make dog treats for Gemma in the dehydrator. She was beside herself during this brownie experiment as her treats have peanut butter and sweet potato in them. She thought I was making her treats. Not a happy girl when she realized I wasn't. But I digress.)

The maple syrup lends a lovely mellow taste. The liquid is needed in the recipe so this really is a treat food, as I don't think cutting back too much on this ingredient would work very well. You could try 3/4 cup? 

I am always playing with recipes. I have some carob powder in the cupboard so maybe I will try them with that next. It's great to have lots of options so that you can choose the best version based on for whom you are making them, the occasion, or simply your personal nutritional needs at the given time.
Are you struggling with figuring out the "way of eating" that is best for your body and health? It seems like every day some new headline pops up. Just yesterday someone told me they were reading an article about bananas being bad for you, and in the same day I got an email listing all of the health benefits of bananas.

Grain - Free | Gluten - Free | Paleo | Primal | Keto |Vegan | Low Fat | High Fat | … and on an on!

The truth is we are each unique, with unique nutritional needs. If you are confused, and would like help determining the most supportive way of eating for you, please book a  Quantum Biofeedback Session.  I would love to help you :)

What is Quantum Biofeedback 

Have a lovely day! I hope this recipe is useful for you, especially as we head into the holiday season (sorry - I know; too soon!)

With gratitude, 

Karen ~