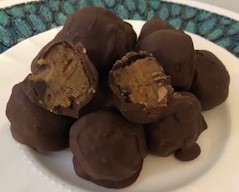 Craving all things pumpkin now that Fall is here? Do you know what's in that pumpkin latte from "you know where"? Well, there is a bit of processed pumpkin puree with the colourings, flavourings, preservatives, carrageenan, sulfating agents, and 50 grams (almost 3 tablespoons) of sugar (grande). Ugh, why not take 20 minutes and try this quick recipe instead? Then pair it with a good old fashion cup of tea. Ginger, or Chai maybe?
Imagine pumpkin pie filling circled in organic dark chocolate. That's what these taste like!
 Pie pumpkins are everywhere right now, and so easy to roast. Simply cut in half, scoop out the seeds and place each half face down on a cookie sheet. I line mine with some parchment paper. You can use a bit of avocado or olive oil along the rim of cut pumpkin flesh on each half if you like. Or use a shallow dish with a bit of water in it instead of the cookie sheet.
Roast for about 45 -60 minutes at 350 degrees, until soft. Once cool, scoop out the flesh. I freeze in one cup portions for easy baking whenever the mood strives over the colder months.
Organic canned pumpkin can be substituted.
If you have read other recipes from me, you know this is where I  say, "Choose organic ingredients as much as possible". So many chemicals are used in even the spices! It's the only way to ensure you are getting the purest source of each ingredient you can. Don't fall for marketing words such "Natural". Read your labels. Why expose yourself to unnecessary toxins, carcinogenic, and inflammatory substances? Not to mention organic tastes better! 
INGREDIENTS
FILLING
·         1 c pitted dates
·         ½ c cooked pie pumpkin
·         ½ c natural peanut butter (or other nut or seed butter)
·         1 tsp vanilla extract
·         1 tbsp cinnamon
·         ½ tsp ground cloves
·         ¼ tsp nutmeg
·         Pinch or two of sea salt
·         ¼ c coconut flour
·         ½ - 2/3 c Camino or Enjoy Life chocolate chips
COATING
·         1.5 c Camino or Enjoy Life Chocolate Chips
·         1 tsp coconut oil
INSTRUCTIONS
·         Soak the dates for approximately one hour or until soft
In a Food Processor:
·         Process soaked dates until they form a well blended paste
·         Add pumpkin and peanut butter and process well
·         Process in spices and vanilla 
·         Process in coconut flour
·         If you want these sweeter, you can add ¼ cup organic maples syrup. If you do, add in a smidge more coconut flour
·         Stir in chocolate chips
·         Form into balls and place on a lined or non-stick cookie sheet, either with hands or using a small ice cream scoop. If using the scoop, press the mixture in well.  Filling makes approximately 20 balls.
·         Place cookie sheet in refrigerator - or freezer to speed up the process.
Coating
Using a double boiler (or simmering water in a small saucepan with a glass bowl resting on top. Don't microwave your chocolate – seriously!) Melt the chocolate chips and coconut oil, stirring constantly. Remove from heat just as the last chips are melting and continue stirring until completely melted.
Remove cookie sheet from refrigerator. Using a spoon coat each ball of filling in melted chocolate and place back on sheet. Place balls back into refrigerator to set.
Store in an air tight container and keep in refrigerator. These would also freeze well – if they last that long!