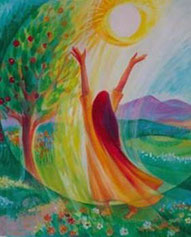 What's Halloween without peanut butter cups?!  But Officer Reese has nothing on these. Satisfy your craving with a higher vibration version that doesn't have the toxic chemicals and neurotoxins that hurt your little globlins' health.
INGREDIENTS 
Filling ~
·         3/4 cup natural organic crunchy peanut butter
·         1/4 cup organic maple syrup
·         ¼ -1/2 cup coconut flour
·         pinch of sea salt 
Chocolate Cups ~
·         Approx. 200 grams organic dairy free chocolate (Camino Brand is Excellent), melted
·         1 teaspoon coconut oil

1.      In a medium bowl, mix together the peanut butter, maple syrup and sea salt.
2.      Add in the coconut flour gradually-- starting first with a 1/4 cup, then adding it in a tablespoon at a time until a "dough" forms.
3.      Place in fridge.
4.      Melt chocolate in a double boiler/ glass bowl over simmering water, stirring often. (You are going to all this trouble, don't use a microwave and radiate your amazing high grade chocolate. Just say-'in)
5.      Remove from heat and stir in coconut oil.
6.      Place liners in a muffin pan, or any candy mould will do. You may want to use 2 liners per well if your liners are thin.
7.      Drizzle melted chocolate into bottom 1/3 of each liner.
8.      Place a ½  teaspoon of mixture in centre of each liner, on top of the chocolate. TIP - roll into a ball and flatten to keep your final cups level.
9.      Cover each with more chocolate.
10. Place in fridge until set.
11. Store in air tight container.